Last updated on June 6th, 2016 at 10:35 am
As many of you probably realize, we are in the midst of a virtual work explosion. A recent survey from Forrester and Brandman University found that 40% of the respondents to the survey said that at least 40% of their employees work on a virtual team. In addition, they found that 21% of those surveyed reported that 61% or more of their staff work in virtual teams.
But, what they also found in the study was that hiring managers believe that virtual collaboration impedes worker accountability, creativity and innovation. Now, while we can't fix all the issues of virtual working in this one article, one issue that can be addressed is accountability.
It's understandable that virtual teams intermingled with co-located teams can create accountability and time-tracking problems. It's much easier to track time and activity when people are all lined up in the office from 9 to 5pm, rather than when employees are spread across the main office, regional offices, home offices, hotels, conferences etc…This is when billable time can be lost in the system and a sense of accountability is eroded.
That's why employers should be moving with the times and empowering themselves to more effectively manage virtual organizations and distributed teams using a fully flexible web based, and mobile friendly time and attendance tracking software tool.
Using a web and mobile optimized time tracking tool like Zoho People Time Tracker is a great way to more effectively manage virtual teams and distributed organizations. It's easy to use both on the web and via a mobile device such as a smart phone or tablet.
It's especially easy for managers to use as there is a simple interface for managers to set-up jobs and input client details and budgeted hours and you can quickly assign employees to this task. Being mobile or web accessible your virtual or co-located managers can easily set up jobs and assign them to staff, no matter where the manager or staff member is located.
The Web Interface for Setting Up Jobs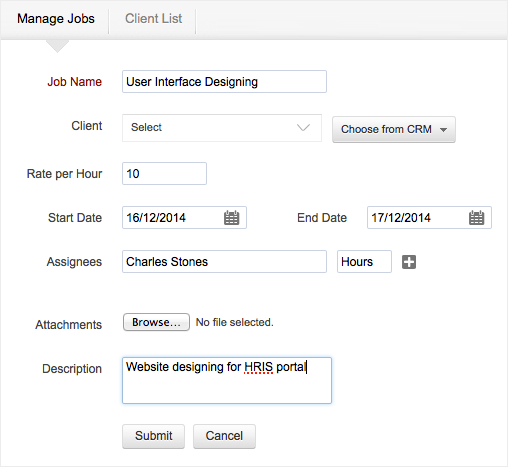 And when it comes to getting your virtual and distributed managers to log their work, they can make use of the web or mobile accessible, (and very user friendly) time logging screens. Staff can log specific tasks and time spent under specific client jobs – and this can be done with ease using the user friendly interfaces below.
The Mobile Interface for Logging Time
The Web Interface for Logging Time
The system has an array of reports which cuts through the organizational fog of virtual and distributed team working and gives you a clear and accurate view of how much time and particularly billable time is spent on each job, increasing all round accountability.
So, by using a web and mobile based time and attendance tracking system like Zoho Time Tracker, you can more accurately and comprehensive monitor and capture all the activity and time spent by your virtual and distributed teams. This will increase accountability, eliminating lost time and effort and ultimately increasing the amount of billable work that can be charged to clients.
This means a time tracker such as the one offered by Zoho, if used effectively, could actually pay for itself in the form of the additional billable time that is generated due to more efficient and effective time tracking.
Related Articles